Journal of Commerce | Grant Cameron | September 23, 2020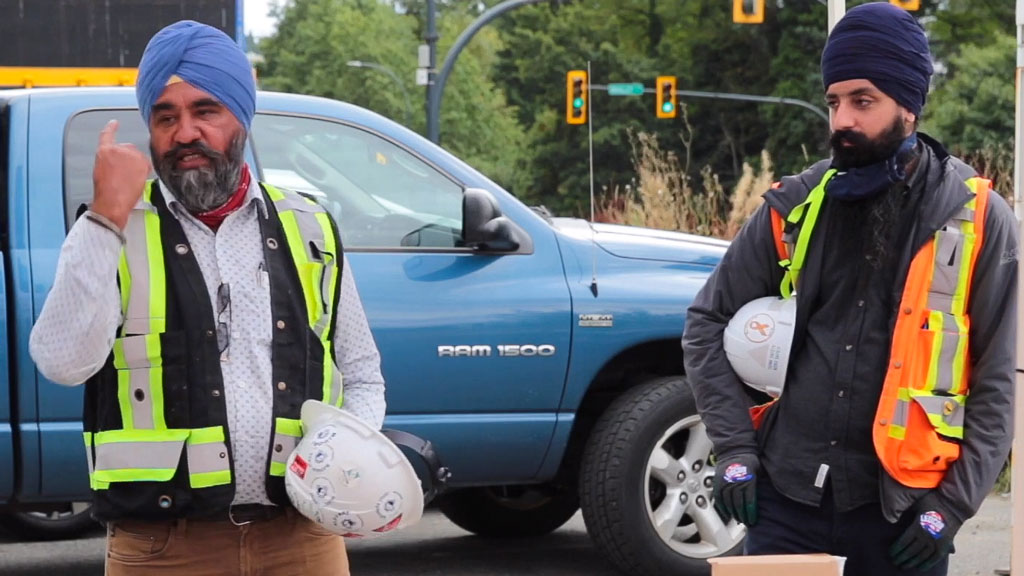 The B.C. Council of Construction Associations (COCA) has produced a nine-and-a-half-minute-long video aimed at bolstering its case for keeping the province's existing hard hat regulations in place.
The video, filmed during a Ledcor Construction Ltd. toolbox talk at the King George Hub project, a mixed-use development venture in Surrey, explains the importance of using personal protective equipment (PPE) and how Sikhs can still wear hard hats by reducing the size of their turbans.
Labour Minister Harry Bains has proposed changes to the hard hat regulations in response to concerns raised by some in the Sikh community, but the COCA maintains the changes just aren't practical and would endanger the workers themselves as well as their counterparts onsite.
Bains has asked WorkSafeBC's board of directors to consider changes to the Occupational Health and Safety Regulation (OHSR) Part 8, Personal Protective Clothing and Equipment (Hard Hats).
Under the current regulation, safety headgear must be worn by a worker in any work area where there is a danger of head injury from falling, flying or thrown objects or other harmful contacts.
We can have a co-existence of religious freedom and safety.

— Dave Baspaly, BC Council of Construction Associations
Some in the Sikh community maintain employers are effectively applying this section as a blanket requirement, resulting in Sikh workers not being able to fully participate in the workforce.
The COCA, however, believes relaxing rules governing the use of hard hats in order to accommodate religious beliefs are neither safe nor practical. The organization did the video because Bains and other ministers wouldn't meet with them at a rally to talk.
COCA president Dave Baspaly says despite the best safety, engineering and mitigation methods, items are still falling from heights and, at the end of the day, a hard hat is the last line of defence.
"In our world we can have a co-existence of religious freedom and safety and, when done properly, when everybody's educated, nobody's disenfranchised and everybody goes home safe."
In the video, two construction workers provide their perspectives on the matter and explain how reducing the size of a turban enables them to wear a hard hat properly.
Vickramjit Poonie, a worker at Ledcor Construction Ltd., was wearing a small black turban that fit easily under his white hard hat.
While a turban is an important symbol for Sikhs, a hard hat is a piece of PPE that must also be worn on a construction site because of the inherent dangers of the job, he explains.
A hard hat is not meant to hide a turban, he notes. Rather, it's a piece of protective equipment much like gloves.
"When you're putting it (hard hat) on top, it's not really for the purpose of hiding the turban, it's a piece of protective equipment."
Poonie says that on a construction site a worker cannot be aware of everything that's going on.
"When you're working you're focused on the work, you don't know what's happening around you. If you're onsite there's multiple cranes moving around, there's people working on multiple storeys. A hard hat is an important tool because you go home safely."
David Sarai, president of New York Painting and Coating, says reducing the size of the cloth used for the turban will enable a Sikh to continue wearing it under a hard hat.
He says he wore a turban made of a metre-and-a-half of material when he was on construction sites.
A lot of construction workers are coming from India and the Punjab region and have to be trained on why the hard hat is important, he says.
"We ask them to wear a shorter turban. We have some challenges. When we do a new hire, they don't want to reduce the turban size so I have to speak up and say, 'Listen, we're not asking you not to wear it, you need to cut down your turban size, protect your hair, represent your religion and still be who you are, but you need to reduce your turban size so you can wear a proper hard hat.'"
Mike McKenna, executive director of the BC Construction Safety Alliance, says the organization has a real opportunity to educate the Sikh community about the importance of wearing hard hats.
He says WorkSafeBC may be missing the fact that there's a large contingent of the South Asian community that's in support of continuing to wear hard hats.
"I think that WorkSafeBC needs to be careful and cautious and make sure that they're hearing not from only the vocal minority but, I think, from all of the South Asian community."
McKenna says the organization needs to really understand that there's a safety issue at stake if the regulations are changed and it's important to take into account everybody's perspective.
Peter Gasparini, vice-president of operations at Ledcor, says PPE is required on all company jobsites and are only removed by exception when a field-level hazard assessment is submitted and accepted by safety reps.
"We encourage everyone to understand the purpose and the use of their PPE but we demand that you use them when you are on our project site."
The video showed a number of items that have been dropped from heights at Ledcor sites in the past six months across Canada, including a cinder block, large pieces of wood and a sledgehammer.
The video can be viewed on the COCA website at www.cocabc.ca.