Journal of Commerce | Russell Hixson | January 4, 2021
Despite construction work volume declines, wages and skilled trades worker shortages remain high in B.C., data from the Independent Contractors and Businesses Association (ICBA) shows.
The group released its annual Wages and Benefits Survey which collected responses from roughly 1,000 construction businesses from across the province.
Chris Gardner, ICBA president, noted that despite an estimated 15 per cent decline in construction volumes, construction companies still reported significant worker shortages and increased wages.
The survey shows that companies increased pay by 0.5 per cent and plan to give employees a 3.5 per cent raise in the coming year and 4.2 per cent increase in 2022 as the impact of vaccine distribution begins to add more certainty to the market.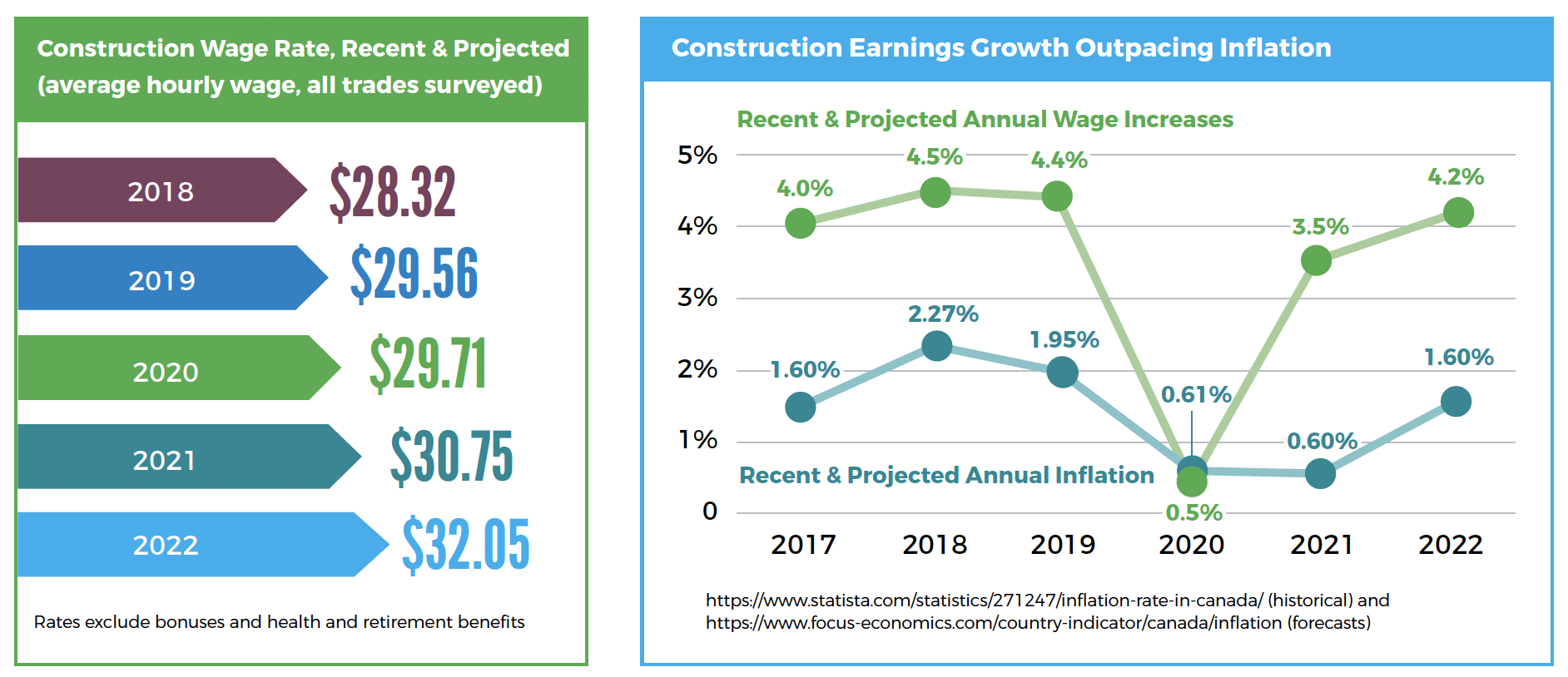 "Even in the middle of the pandemic there were raises, as lots of companies in other sectors were laying people off," said Gardner. "This means there are tremendous opportunities. If you are a young person considering career options, across nearly every trade you can think of there is an acute shortage of workers."
Gardner urged the province to invest in training spaces so people don't have to wait in line to get into classes and begin their apprenticeships.
Every glazing, insulation and steel company surveyed noted they needed more glaziers, insulators and steel fabricators. Ninety-four per cent of mobile crane/equipment companies said they needed more skilled operators; 92 per cent of roofing companies are looking for roofers; and 91 per cent of pipefitter employers are trying to source more labour.
All across B.C. companies reported needing more electricians, plumbers, carpenters and labourers.
Gardner explained the continued crunch for labour and decline in construction volumes has companies in a difficult situation.
"There are going to be tighter margins but they can't reduce wages to make up for margins, so contractors are going to be squeezed on both sides," said Gardner. "There are going to be challenges."
The ICBA is expecting things to get a bit worse before they get better with another five per cent construction volume decline in 2021.
"Before the pandemic, you would see four or five bids on projects and now you are seeing eight, 10 or even 12," said Gardner.
Here is how contractor confidence broke down by region:
Interior: 37 per cent expect more work in 2021 than last year.
North: 56 per cent of contractors expect more work in 2021.
Vancouver Island: 54 per cent of contractors expect more work in 2021.
Lower Mainland: 35 per cent of contractors expect more work in 2021.
Gardner also reflected on how the construction industry met the challenges of the pandemic during 2020.
"There was lots of confusion when the lockdown in March was starting," said Gardner. "Once construction was declared essential, protocols were reviewed and agreed to and implemented. From that time there have been very few cases of COVID contracted on sites. Construction companies and workers adopted those protocols enthusiastically and it is a testament to the commitment of the construction industry to work safely."